Press & Media
Irish Music Magazine • Review - ANN KIRRANE Behind Yon Mountain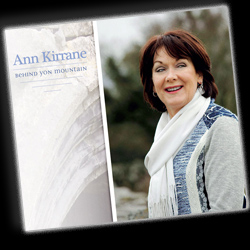 Ann Kirrane is a singer and musician with a pedigree, the daughter of concertina legend Chris Droney from Bellharbour County Clare. She is an accomplished concertina player in her own right and takes up the instrument on this recording too, but subtly, and as this is an album of songs. Working with long time musical partner Gary O'Briain, Ann has created a wonderfully clean sound.Years of performing in stage productions means she has a confidence in her singing and a technique that is at once powerful and emotionally expressive. Her backing musicians include O'Briain on piano, guitars and his trademark mandocello, the guitarist Seamie O'Dowd and Dermot Byrne on the accordion. With Ronan Greene and Seamus McGuire adding fiddle, Éamonn Cotter on flute and Padraig Stevens on percussion, this is a seriously talented crew to be working with and Ann's voice shines in this stellar company. The choice of songs is wide and with 15 of them on the album she gets to showcase her big range, from the jaunty tongue in cheek Headin' Back to Doolin, to Liffeyside which comes form the Delia Murphy songbook. There are folk classics to in the ballad of John Condon, and Edward on Loch Erne Shore, a reworking of the Clannad inspired Two Sisters (the intro is very inventive). Her Song of Bernadette reflects her passion for Church music, whilst Mick Curry's 2000 Years After Jesus is a wry secular comment on modern Ireland. She does a commanding job of Finbar Magee's Belfast Love and her voice is at its purest on Jimmy mo Mhile Stór, Bheir Mí Ó and Crucán na bPáiste, the accompaniment on the Irish songs is bare, leaving Ann in full control of the song and the story. The gatefold album is beautifully presented, with information on each track, the whole work, production, choice of material and presentation is excellent.
Seán Laffey - Irish Music Magazine 2016
---
The Tuam Hearald • Tuam's Ann dedicates new EP to mark her dad's 90th birthday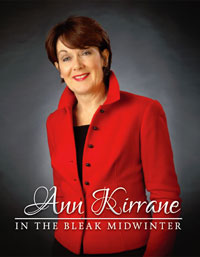 Tuam's Ann dedicates new EP to mark her dad's 90th birthday Well-known singer and musician Ann Kirrane has just launched a new EP in time for Christmas which she has dedicated to her father, award-winning musician Chris Droney, to mark his 90th birthday.
Ann has been part of Tuam's musical life for decades and has also been a huge supporter of, and participant in, Tuam Trad Festival since its inception. A keen concertina player herself, Ann is delighted to have recorded the well-known Christmas song 'In the Bleak Midwinter' especially for her father.
"This has really been a work of love as it's dedicated to my father," explains Ann, who has already enjoyed huge success with her debut album 'One Small Star'. The album was recorded in 2012 and its popularity lead her to performing in venues from Clare to California and from Tuam to Texas.
Ann's father, Chris Droney, has performed with her in Tuam during the annual Trad Fest for the past four years and Ann and all her family were delighted when Chris received the TG4 Gradam Ceoil in 2014.
'In the Bleak Midwinter' was produced and arranged by versatile musician and Burren resident Garry O'Briain while other musicians also involved are Dermot Byrne, Ronan Greene and Padraig Stephens.
Ann has lovely memories of the festive song being sung by the Tuam Cathedral Choir accompanied by her late husband Noel. She says the choir often included the song in their performance for patients in the old Grove Hospital each Christmas and while Ann wasn't a member of the choir herself, she learned it from Noel over the years.
Ann also has a beautiful video to go with the song and shots were taken along the Clare coast and give stunning views of the West of Ireland. The video was made by her niece, actress Aoibhín Garrihy, who has performed at The Gate and in Fair City.
"We had a wonderful day filming and the weather was perfect once we were well wrapped up," says Ann.
To coincide with the launch of this EP, Ann is playing a number of gigs this Christmas, beginning with a home concert in Ballyvaughan Hall on Friday, December 12 and the following week on Friday, December 19 upstairs at the Crane in Galway.
Ann will hold an informal launch of the CD at Tuam Library on Thursday, December 18 at 1 pm and everyone is invited to pop along. The CD is available locally at Quinn's Shop on Bishop Street, priced €6.
Siobhán Holliman, The Tuam Herald, 11 December 2014
---
Irish Farmers Journal • Waltzing into our hearts
Ann Kirrane is preparing for a hectic few days culminating in a triumphant homecoming, writes Michael Commins
When Ann Kirrane (nee Droney) from Tuam stepped on stage in the Salthill Hotel in Galway last November and sang The Tennessee Waltz before a full house, you could sense right away that here was a lady who was very much at home singing country music. It was a moment in time and Ann captured the hearts of an audience with an intimacy for music that comes only from the heart.
As if to really showcase her versatility, her other two songs on the night were the beautiful Green Hills of Clare, a song her father Chris Droney from Clare first heard sung in Boston, and the timeless classic, Swanee River (Old Folks At Home), written by Stephen Foster all those years ago.
Ann launched her debut album, One Small Star, last year. And despite coming from a family steeped in traditional music, recording was still a new venture for her. Sitting in on sessions with Matt and Sean Keane from Galway, respecting the wonderful tradition of Dolores and the family circle from Caherlistrane and the wonderful friendship of so many fine Galway musicians and singers - Michael Stewart, Gary Quinn, Ronan Greene, Joe Forde among others - has given Ann a real appreciation for the wider scene.
In recent times, Ann has taken a whole new interest in the music songbook of the famous Carter Family from the southern USA who pioneered a renaissance of interest in traditional American country and folk music all those years ago.
On stage, Ann exudes class and style. This Saturday night, 20 April, she will revert to her trad roots when she goes on stage in the Michael Coleman Centre in Gurteen, Co Sligo, to join her dad Chris Droney and other family members for a truly special concert.
Chris Droney from Bellharbour, nine-time All-Ireland concertina champion and 2012 Clare Man of the Year, is a revered figure in Irish traditional music. He has been playing concertina for more than 80 years and his music is as fresh today, with Chris in his 89th year, as it was in the 1950s. On a visit to the United States in 1952, he met and played with the renowned Sligo fiddle player, Paddy Killoran.
Chris played with the great Kilfenora Céilí Band and, in later years, with the Four Courts (Joe Wrynne and friends) with whom he featured on Caribbean cruises and other music holidays in Ibiza, Portugal and Spain. He has entertained audiences from Camden Town to north America and is regarded as one of nature's gentlemen.
His son Francis toured with Comhaltas in the 1980s and both he and wife Aine (McGrath) have won senior All-Ireland titles in concertina and fiddle. The concert begins at 9pm and details can be had from 071-9182599.
Homecoming
It will be a hectic few days for Ann who will headline her own show in Kilfenora Hall in Co Clare the following Saturday night, 27 April, at 8pm as part of their music festival.
This will be an extra special show for Ann and a real homecoming as she grew up playing concertina with members of the Kilfenora Céilí Band such as Kitty Linnane, Tommy Peoples, Paddy Mullins and her father Chris Droney.
She will be joined for this show by her father, brother Francis, sister-in-law Aine and musicians Ronan Greene, Garry O Briain and Barry Brady.
Ann Kirrane has her heart set on making the breakthrough on the music scene. The Keane family from Caherlistrane have endorsed her as a true professional and a gifted singer and musician. It is only a matter of time until Ann makes it big on the folk and country circuit. High five to that! CL
Michael Commins, Irish Farmers Journal, 20 April 2013
---
The Clare Champion • A Star is reborn at Ennis Trad Fest
Ann Kirrane talks to Owen Ryan about the relaunch of her album, One Small Star, and her recent visit to New York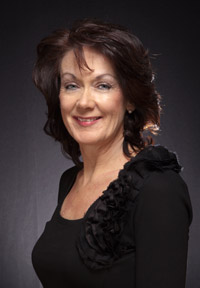 SINGER Ann Kirrane, daughter of the legendary Chris Droney, is set to relaunch her CD, One Small Star, at the Ennis Trad Festival on Saturday at 5pm in the Temple Gate Hotel. When she spoke to The Clare Champion last Friday, she was just back from the US and had spent some time in New York City as it was pounded by Hurricane Sandy.
"I had been in New Jersey with my cousins but I had left before the hurricane started and that's where the main damage was done. Some of them have property in the coastal area and it's in a proper mess down there," she said. "I got into New York on Saturday, October 27. There were signs of the hurricane coming at that point but it was ok. On the Sunday, I was in a hotel on Seventh Avenue and we weren't let out the door for the day because there was scaffolding loosening on a building beside us..
"It was unique to have the whole street deserted. There was nobody outside except eight policemen patrolling up and down to make sure nobody else went outside," Ann added. The visit to New York was the tail end of her time Stateside.
"I was on a bit of a tour. I was in Boston and Hartford on the way out and then out to San Francisco and back by New York.
"It was great, particularly San Francisco where I had been invited out to a festival. I played in the Plough and the Stars pub as well. Paddy Keenan and Mike McGoldrick were there and some other great musicians."
The hurricane saw the worst storm surge in New York's history and dozens died in the city. Ann said there was anxiety among her family and friends.
"I got back in one piece and that was the main thing. I had the world and its mother contacting me to know if I was dead or alive. It gave you an idea of what it was like on 9/11, although it was on a smaller scale."
Ann now lives in Tuam and her CD was recorded in the Sun Street Studios in the North Galway town, which have been used by the Saw Doctors.
"I recorded it mainly as a tribute to my husband, who died four years ago. He was a great man of music," she says. Her family is steeped in trad but when she moved to Tuam she took a different path. "My background is in concertina but when I came to Tuam in the late '70s there wasn't a lot of trad so I got sucked into musical theatre and I was involved in 25 or 26 musicals. Of course, nobody had ever heard of a Droney singing so it came as a bit of a shock."
The CD does include some trad and has some of her own compositions. "There's a great song written by a guy from Gort called Working the Streets. there's also The Green Hills of Clare and Chris, my father, plays on that as well. It's not often you get your nearly 88 year old father to play on a track. "It's a fairly wide-ranging CD in terms of genres of music. there's a bit of gospel, contemporary songs, folk and a bit of trad. Since I was playing concertina long before I ever sang a song, I said that I'd throw in a few tunes that I composed myself.
"When I was young I used to play up in Lisdoonvarna in the Kincora with Kitty Linnane, Paddy Mullins, Tommy Peoples and all these, so I said I'd throw in a few tunes. I do play a lot of music as well, it's not all about singing," she concluded.
Owen Ryan, The Clare Champion, 9 November 2012
---
The Clare People • Born to Play
For some people, music is in the blood. Andrew Hamilton chats to North Clare concertina legend Chris Droney about his early meetings with Willie Clancy and traces his style of play back to the humble mouth organ and the house dances of the mid 19th century.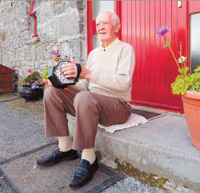 DRAW a circle a mile wide around the post office in Bellharbour. Within that small section of farmland and coastline, you will probably find the highest concentration of musical talent on the island of Ireland. Something special happens between Dooneen and Muchinish, something that stirs creativity in people and makes musicians out of men. This special something has had an effect on four generations of the Droney family. "I have to go back a long way now. My grandfather [Michael Droney], he was born in 1829 and he died in 1927, that's 98 years. He used to play the mouth organ before concertinas ever came on the scene. In the mid-1800s, he used to play at house dances. It was house dances in those days - there were no halls, no pubs, no Fleadh Ceoils, nothing," remembers Chris.
"Then concertinas came on the scene, and he bought his first concertina for two and six pence - it was a Hohner, from Germany. My father [James Droney] picked it up from him and he passed it on to me. And now Francis and Ann, my two children, play the concertina as well and there are grandchildren playing too. It's in the family a long time.
"I think he [Michael Droney] would have taken some of the style from the mouth organ and brought that to the concertina, but there would have been other people playing the concertina at that time too. There were always a lot of concertinas in the parish. I know of a person who emigrated to the States from down the road and she had a concertina with her. She was out in America for 40 or 50 years and then she retired back to Ireland. When she came back, she had a big trunk with her and at the bottom of the truck was the same concertina that she brought out with her 50 years before. So it's always been an important thing for the people of this area. "We had a Eucharist Congress in Dublin last week and the last time we had one of those in Ireland was back in 1932; it was in that year that I learned my first few tunes on the concertina. I was only eight years old. I can still remember the tunes I learned, 'The Wearing of the Green' and 'Clare's Dragoons'. They were the first two tunes that I ever learned.
"I think I got a lot of my own style from my father but that style of play changed a lot as the years went on, especially now, since the Fleadh Cheoil came and lots of people started to play music. They started putting in all of this ornamentation. It's different now to what it used to be. I think it is probably different in a good way. The one thing that I don't like is people playing fast. That's what people want now, especially dancers, they always look for fast music. I don't like it. It's not the right type of music to play too fast." Chris was also a contemporary of the great Willie Clancy and remembers inviting him to his kitchen in Bellharbour for some memorable sets. "I think it was 1962 and I was down at the Fleadh Cheoil. We were both adjudicating together - I was adjudicating the concertina and the tin whistle that time, I think, and Willie was adjudicating the pipes and concert flutes. It was a great Fleadh Cheoil.
"I knew him a bit before that. Ciarán Mac Mathúna used to come here and have sessions in the house. The kitchen was big so it was a great place for sessions. But Ciarán had a programme from the house and he asked me to invite up a few musician and singers and set dancers and that so I just thought of Willie. I asked Willie and Jimmy Ward, who was originally from Kilfenora but was living in Miltown that time, and they came over and were recorded right in there in the kitchen. "It was a great evening. We had some great music and set dancers and the programme was broadcast several times on RTÉ. We had great sessions in those days. There was some great musician in Ballyvaughan at that time - the likes of Patrick Vaughan, Jim O'Keane and Martin Rabbit. But that was years and years ago. They're all gone now, like Willie. I'm the only survivor." And at 88 years of age, Chris shows no signs of taking a break from playing.
"Thank God my fingers are okay, but I suppose a time comes when you have to say enough is enough. I'm a long time playing. I'm 80 years playing the concertina and that's a long time to keep playing music. I never got sick of it. It was always very interesting, like being on these Comhaltas tours to America and Germany and all over the world," remembers Chris.
"There was something in the news just today about the Irish Embassy in Washington and I was thinking, it's a long time since I played music at the Irish Embassy in Washington. It was a very exciting time, back in the '70s, when we were helping to bring the Irish music to the world. They were great times. There was one thing I remember from America, back in 1952. My brother was out there and he knew the famous Sligo fiddle-player Paddy Killoran. He invited me out to his house and as soon as the dinner was over the music started. We played for about two hours. When the session was over and before we left, he brought me into his room and he opened up a wardrobe. There were about 100 ties hanging in the wardrobe. He said, 'pick out a tie and every time you wear it, think of me'. We were just leaving then and he said, 'every time you wear that tie, think of me', and he asked me to say a prayer for him because he knew he wouldn't be around too much longer. That was something I will never forget. There is something about traditional music that connects people. It's like what Joe Cooney used to say, Irish traditional music is the only music that brings people to their senses."
Andrew Hamilton, The Clare People, 10 July 2012
---
The Mayo News • South of the Border • Another star from Tuam
"THIS week we're taking a spin across the Galway border but the topic that fuels this particular journey is close enough to home to justify the ramble. And a fascination with the power of the voice never fails to syphon the attention of SOTB.
It was while travelling home a while back with The Wednesday Night Late Show on Mid West Radio for company, and Michael Commins churning away in Ballyhaunis, when I first encountered the dulcet tones of Ann Kirrane from Tuam. In my humble opinion her rendition of 'Swanee River' is as fine a version of the Stephen Foster classic as you could hear.
One thing to make an unknown song your own, but Ann has done it with an old well-worn standard.
Ann is a native of Bellharbour in County Clare and comes from a family steeped in music. Her father, Chris Droney, is one of the most highly-respected concertina players in Ireland. The Droney family are farming people, and music sessions still celebrate the completion of annual chores like threshing the corn or saving of the hay.
Ann learned her trade at the knee of the masters like her father and her grandfather Jim, Tommy Peoples and Paddy Mullins of the famous Kilfenora Ceili Band. She won the All-Ireland Fleadh Ceóil three times playing the concertina.
Taking up a position with the Ulster Bank was Ann's road to Tuam. She recalls her first meeting with Branch Manager, Seán Smith, inquiring did she fish or sing. They were Sean's favoured passions and Ann's singing ability led to her to Tuam's Marian Choral Society.
Ann's husband Noël Kirrane was of Ballindine stock and synonymous with music in this region. His mother Nan hails from Murrisk outside Westport (she's one of the Gills of Thorn Hill) and she is still alive and well. Noël's passing at a young age following a short illness in 2008 has left a void that will not be easily filled.
Noël had a simple maxim that you need to be a sensitive person to fully appreciate music.
He gave his time in sharing his gift with many musical troupes. Never one to take a bow or court the limelight, Noël's satisfaction was in seeing others, be it his pupils in St Jarlath's College or amateur performers on stage, developing their talent and giving of their best.
That was encore enough for Noël Kirrane's and he modestly eschewed adulation, applause and awards.
Noël was Musical Director with Ballinrobe Musical Society for fifteen years and his final show was their production of Titanic – The Musical. Poignantly enough, as events unfolded, his last baton was wielded directing the singing of 'We'll Meet Tomorrow' in that production. A few years later Ann kept the Kirrane link with Ballinrobe alive when she took to the stage in Come the Dawn.
Through the cajoling of musicians like Gary Quinn, Dave Curley, Ronan Greene, and Mike Stewart, she got involved in traditional music sessions in Tuam again. Those gatherings were the catalyst for Ann to record her debut album One Small Star, produced by Séamie O'Dowd at Kenny Ralph's Sun Street Studios in Tuam.
It's a lovely mix of different musical styles and with Ann's brilliant treatment of every song, it's a must include for any half-decent record collection. Her alluring and fetching voice transports the listener on a beautiful musical journey.
It's also a family affair as her daughter áine is backing vocalist and did musical arrangement on 'Down to the River'.And for concertina playing she had the genius of her dad Chris Droney to call on, and a few prayers from mum, Margaret, to give it the official blessing.
The album is dedicated to the fond memory of her husband Noël and is a fitting tribute to a great man and a renowned musical genius. Noël will give it full volume on the veranda of Heaven.
Ann Kirrane plans a Mayo launch for her CD and already its popularity is affording it regular airplay on local radio stations. The Belle of Bellharbour is a bright Tuam star too. Gold is where you find it."
Willie McHugh, The Mayo News, 08 May 2012
---