Music
Debut Album - One Small Star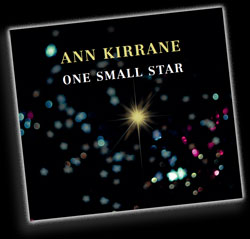 "One Small Star" is Ann Kirrane's first CD. Recorded at Tuam's famous Sun Street Studios by Kenny Ralph and produced by Seamie O'Dowd.
The record shows the full range of Ann's musical accomplishments. A sophisticated blend of song, stretching from folk to standards to jazz carry the listener on a musical and magical journey, and expresses all the emotions of a life well lived.
Her clear soaring voice and tender interpretations of the songs are a revelation, and show what a fine vocalist Ann Kirrane really is. She was born to sing!
See the Shop Page for a list of retailers or to Buy Online.

Behind Yon Mountain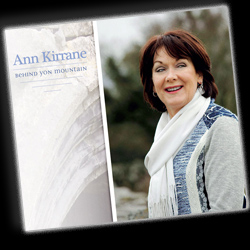 Ann Kirrane is a singer and musician with a pedigree, the daughter of concertina legend Chris Droney from Bellharbour County Clare. She is an accomplished concertina player in her own right and takes up the instrument on this recording too, but subtly, and as this is an album of songs. Working with long time musical partner Gary O'Briain, Ann has created a wonderfully clean sound.Years of performing in stage productions means she has a confidence in her singing and a technique that is at once powerful and emotionally expressive. Her backing musicians include O'Briain on piano, guitars and his trademark mandocello, the guitarist Seamie O'Dowd and Dermot Byrne on the accordion. With Ronan Greene and Seamus McGuire adding fiddle, Éamonn Cotter on flute and Padraig Stevens on percussion, this is a seriously talented crew to be working with and Ann's voice shines in this stellar company. The choice of songs is wide and with 15 of them on the album she gets to showcase her big range, from the jaunty tongue in cheek Headin' Back to Doolin, to Liffeyside which comes form the Delia Murphy songbook. There are folk classics to in the ballad of John Condon, and Edward on Loch Erne Shore, a reworking of the Clannad inspired Two Sisters (the intro is very inventive). Her Song of Bernadette reflects her passion for Church music, whilst Mick Curry's 2000 Years After Jesus is a wry secular comment on modern Ireland. She does a commanding job of Finbar Magee's Belfast Love and her voice is at its purest on Jimmy mo Mhile Stór, Bheir Mí Ó and Crucán na bPáiste, the accompaniment on the Irish songs is bare, leaving Ann in full control of the song and the story. The gatefold album is beautifully presented, with information on each track, the whole work, production, choice of material and presentation is excellent. Seán Laffey - Irish Music Magazine
See the Shop Page for a list of retailers or to Buy Online.